Our People - Meet the Volunteers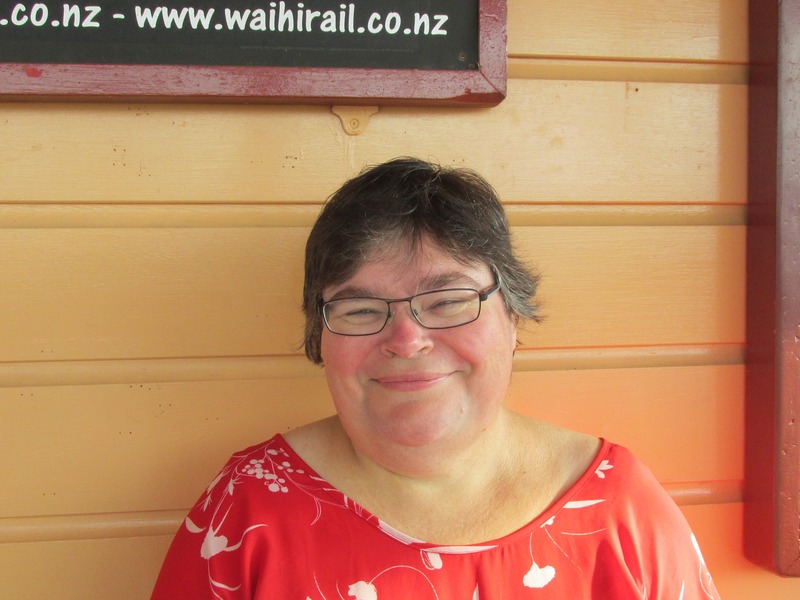 Linda Cumming
Posted April 13, 2019
How long have you been volunteering at the railway, and what do you do?
I started in November 2018, helping the guards to clean the carriages at the beginning of the day. Then I trained to be a host, and now I'm training to be a guard. I do other things as well, for instance I have sanded and started painting a lot of the wooden trim at the railway station. There's always lots to do!
What other volunteering experience have you had?
I worked at an IHC op-shop in Pukekohe for 15 years. That also had a lot of variety; I'd work behind the counter, doing sales and lay-bys, then I'd work out the back, pricing items and sorting donated goods that came in. That work led to my helping out at the IHC Drama Group where I acted in some of the shows; I also did the desktop designs for their publicity.That's where I met my husband Ricky.
What brought you to Goldfields?
We hadn't seen the house until the day we moved in. When I saw we were to be living next to the station, I looked it up the website, saw that the station needed volunteers, and we came along to see how we could help.
What do you like about volunteering here?
Everything! I love it – meeting different people from other countries, a lot of the guys here have been really nice to me. You couldn't get a better job - especially in the summertime - than helping out on the train when you're outside and everyone is having a good time.
Have you always lived in Waihi?
No, I was born in Auckland and moved to Pukekohe when I was a tot; I lived in the same house for many years and then last year we moved to Waihi to be near to my mother-in-law at Athenree and other friends and relations in Waihi.
What's your favourite TV show?
Knight Rider, because of David Hasselhoff. I've been watching him since I was a girl, first on the Young and the Restless, then Bay Watch. David sings as well, and when Ricky and I got married we had two of his songs at our wedding.
What do you do when you're not at the station?
I do a lot of arts and crafts – knitting, crochet, tapestry, rug-making, diamond mosaic, desktop design. I also like baking and sometimes bring the results along here for the other volunteers. I'm never bored, but if I was I would just pop along to the station as I live right next door.