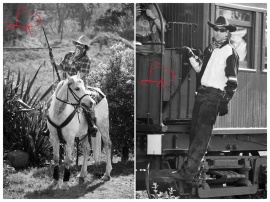 As part of the Waihi Goldfest 2013 (Sunday 6th October), we had a fun day with a mock up Train Robbery.
At 9.15am a story was read - a wonderful story "Josephine off the Rails". Josephine is a real steam engine and is the oldest preserved locomotive in New Zealand. You can see her in the foyer at the Toitu Otago Settlers Museum in Dunedin.Great story book for a young train enthusiast.
10.00am all were aboard travelling down the track toward Waikino.
Prizes were given out to the best dressed cowgirl and cowboy. We were very lucky to have some enthusiatic horseman. It was just like the old days, a fantastic feeling and felt very real. The train was held up some cowboys - held the driver at gun point and another cowboy jumped on the train with guns a blazing. He had a saddle bag full of Crunchie Bars!! It wasn't so real after all!
It was a great event so KEEP a look out for our 2014 Train Robbery in October 2014.