Goldfields Heritage Railway
Travel back in time and enjoy a ride on a heritage train with Goldfields Railway. Journey between Waihi and Waikino at the eastern end of the spectacular Karangahake Gorge.
Experience a section of what used to be known as the East Coast Main Trunk Line which stretched from Auckland to Taneatua south of Te Puke. Enjoy an area rich in history, including historic goldmining which shaped much of this part of the Southern Coromandel.
Have a break at Waikino Station with a hot or cold drink and a Devonshire scone. Alternatively take time to visit the gorge and historic sites, then return to Waihi on a later train.
Please check the timetable for return times before you travel; there are many days when we only run one train. When there is more than one train, turn-around times at Waikino vary.
If you have a return ticket, you can catch any available return.
Ride / Lunch Package
Train Ride:
Leaving Waihi at 11:45am, take the heritage train ride through the beautiful pastoral landscape along the Ohinemuri River to Waikino; be back in Waihi for 1:30pm.
Lunch:
Enjoy a beautiful pre-set lunch at Waikino Station Cafe: bacon & egg slice, ham & cheese toastie, a sweet and tea or coffee. Eat in the friendly cozy café or take your lunch onto the Tauranga Dining Car.
Package Price
Adults: $28.50
Gold Card holders: $24.50
Package available Monday, Tuesday, Thursday, Friday during school term-time.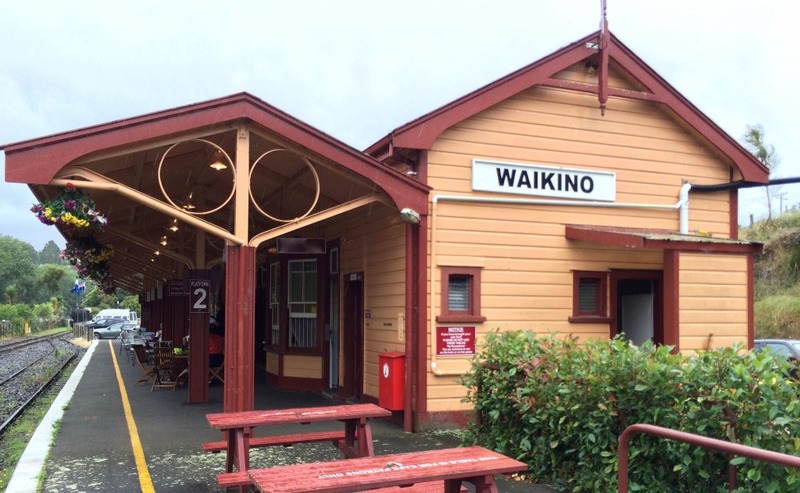 Save 20% on normal ticket prices and get a cracking good lunch as well!