Level 2 Operations
We are operating from 20 December under Level 2 operations.
Depart Waihi
Monday: 9:45am, 11:30am, 1:45pm
Tuesday: 9:45am, 11:30am, 1:45pm
Wednesday: 9:45am, 11:30am, 1:45pm
Thursday: 9:45am, 11:30am, 1:45pm
Friday: 9:45am, 11:30am, 1:45pm
Saturday & Sunday: 9:45am, 11:30am, 1:45pm
Depart Waikino
Monday: 10:45am, 1:00pm, 2:30pm
Tuesday: 10:45am, 1:00pm, 2:30pm
Wednesday: 10:45am, 1:00pm, 2:30pm
Thursday: 10:45am, 1:00pm, 2:30pm
Friday: 10:45am, 1:00pm, 2:30pm
Saturday & Sunday: 10:45am, 1:00pm, 2:30pm
PLEASE NOTE THAT THE 2:30pm TRAIN DURING THE WEEK AND WEEKEND IS THE LAST TRIP FROM WAIKINO.
PASSENGERS: Please be aware that there is a lot of privet out at the moment. Please take necessary precautions if you have allergies.
The public SHOULD be wearing masks when they cannot social distance. Children under 12 do not have to wear masks. ALL GOLDFIELDS STAFF ON THE TRAIN SHOULD WEAR A MASK. Everyone should be using the signing in app (QR), or signing in manually if on Goldfields Railway premises.
AS FROM 3rd DECEMBER 2021 GOLDFIELDS RAILWAY WILL ONLY ACCEPT DOUBLE VACCINATED PASSENGERS OR PASSENGERS THAT HAVE A VALID AND APPROVED MEDICAL EXCEPTION. CHILDREN UNDER 12 YEARS ARE EXEMPT. PASSENGERS WILL HAVE TO BE ABLE TO PRODUCE THEIR VACCINE PASSES FOR SCANNING. THE VACCINE PASS IS A LEGAL REQUIREMENT.
Please help us fight the spread of COVID-19.
Goldfields Railway Society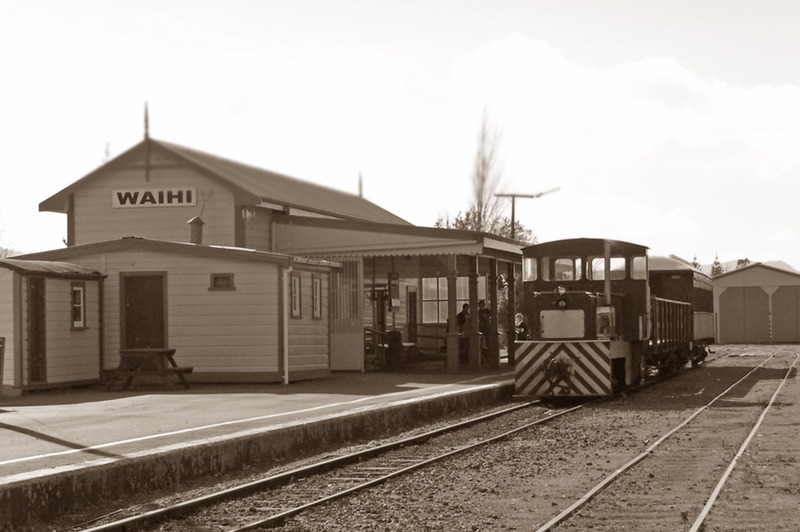 Goldfields Railway Incorporated was established in 1980 to preserve the rail heritage of the local area with the Society being based on the old Waihi Railway Station. It is registered under the Incorporated Societies Act as well as being a registered charity.
Since that time the Society has grown to now operate a popular tourist railway between Waihi and Waikino, and caters for families and kids - young or young-at-heart!
Its objectives are not only to preserve this part of the nation's rail heritage, but also to preserve the railway as an essential part of the Waihi district historical identity.
Today the Society's objectives are little changed form the original concepts in that it caters for those people interested both in the tourism operation, plus the preservation and reconstruction of railway artifacts. The 30-minute trip between Waihi and Waikino travels along the original rail bed alongside the Ohinemuri River with views not only of fabulous scenery, but many of the original mining operation historical sites not visible from State Highway Two.
Society Membership
Your membership of the Society will help maintain our heritage fleet, preserving the past for the future generations, ensuring lots of fun and fellowship. As a financial member you will receive half fare off when traveling on the train. Membership is from the 1 July - 30 June.